Seasonal beverages are a great way for us to spice up our menu and provide your taste buds with a new adventure! For the Spring season, we have launched 5 new beverages that we know you are going to absolutely love. Enjoy the convenience of ordering them online for pick up or having it delivered straight to you from Door Dash.

1. Honey Almond Latte
Spring is here (at least according to the weather) and that means the Honey Almond Latte is back! This latte is the perfect blend of honey, almond syrup, espresso, and steamed milk. Creating a smooth, creamy flavor with a hint of sweetness.
Order For Pick Up Order For Delivery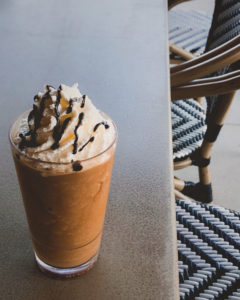 2. Peanut Butter Cup Frappe
The weather is heating up, but the drinks are cooling down. Satisfy that sweet tooth with the taste of peanut butter, mocha, and blended coffee. Plus, it's topped off with whipped cream and chocolate drizzle.
Order For Pick Up Order For Delivery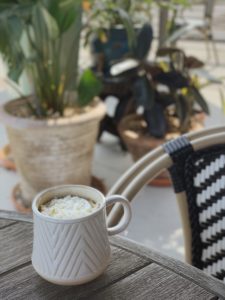 3. Peppermint Patty Latte
We know it's only been three months, but who said you have to wait until December to enjoy the brisk peppermint flavor? We've had a few cold fronts come through Lakeland this year, so we're being rebels and rolled out our Peppermint Patty for the spring. Blended with peppermint syrup, Irish cream syrup, white chocolate mocha, espresso, steamed milk, and whipped cream. This one will have you in the holiday spirit way too early!
Order For Pick Up Order For Delivery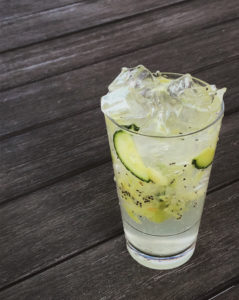 4. Kiwi Orange Blossom Soda
This Kiwi Orange Blossom Soda came together to create such a delicious beverage that is easy to sip on. Enjoy the blast of flavor from the fresh kiwi slices, fresh cucumber slices, house-made orange blossom syrup, and soda water.
Order For Pick Up Order For Delivery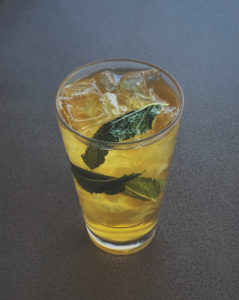 5. Iced Jasmine Green Tea
If you think you do not like jasmine or green tea, this refreshment might shock you. The floral flavor of jasmine water, mixed with the refreshing blend of green tea, and a hint of fresh mint creates a drink perfect for a warm and sunny day in Lakeland.